Benefil
.
Both a product and a company.
For more information about both, feel free to browse through this page or contact us below.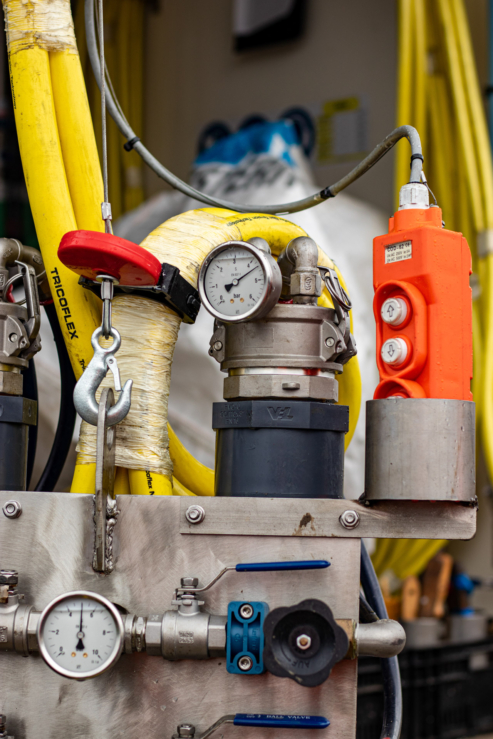 As a company
Benefil Nederland BV;
The company with which we do our speciality jobs. Like floor lifting and void filling.
Lifting sunk floors is a very specialised job. For instance, we have highly trained personnel operating the foaming installation and laser levelling equipment.
Equally as specialistic is the filling of voids. One can not simply 'fill a void' but has to be aware of complications to the surroundings before, during and after filling. Our team has many years of experience and also trains our dealer-network worldwide.
Benefil's History
Benefil as a brand got set up in '04 as a coöperation between Aquaresins Technologies and Uretek Worldwide.
Uretek, specialised in lifting foundations and structures with PolyUrethanes. And Aquaresins, the manufacturer of aminoplast hardfoams used for floor lifting and filling large voids.
In 2009, after many years of close partnership the owners of Aquaresins (Based in The Netherlands) acquired the dutch Benefil Nederland from Uretek Nederland. In the rest of the world, we still work closely with dealers in the Uretek network.
More information about the Aquaresins Group History
As a product
Special Industrial Applications
Benefil Hardfoam, our brandname for what we call our special industrial applications.
For example floor lifting and void filling.
More information about each product can be found by clicking on the title. Additionally,  to read more about the products and available applications, click the in-text link.
For pipeline filling and some void filling applications.
Ideal for filling large pipelines or situations where a higher densities or more structural strength is required. Also great for the larger void filling jobs.
Our 'floor lifting' hardfoam. Perfect to fill up voids under slabs and floors that get heavy use. Also our go-to for sunken floor applications.
What specialised jobs does Benefil do?
Projects
Floor lifting
Sunken concrete floors can be lifted to the original or required level by filling the void with Benefil 5000 / RG50. For example we'd like you to visit the floor lifting case below. There you'll get a good picture of general floor lifting jobs and how we do it.
Void filling
Larger voids, or voids that require structural strength. These are the cases in we fulfil the job. Depending on the situation, we will decide with the customer which density is best and what the minimum requirement would be for safe and secure filling. For example, the case depicted below shows a recent job we did. To illustrate; The client contacted us with a problem. Subsequently we thought of the solution with close cooperation.
Benefil downloads
Here you find our Benefil specific documents.
Additionally more downloadable files can be found on our downloads-page.
Additionally if you want more information about our 'green' products, feel free to visit Resins Agro.

Maeslantkering 2020